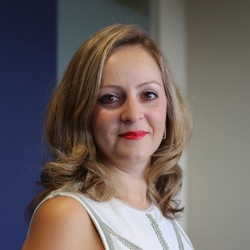 Eteri Zaslavsky
Managing Director
---
Since joining Next Realty, LLC in 2006, Eteri Zaslavsky has been responsible for the execution of the company's investment strategy. She has completed numerous transactions for the firm including fee simple acquisitions, note purchases and financings. Most recently, Eteri has expanded her role to focus on investor relations and raising capital for Next Realty's future investment funds.
Throughout her career, Eteri has been active in all aspects of the commercial real estate business. Prior to joining Next Realty, Eteri worked at Allstate Investments, where she was responsible for originating commercial real estate loans and completed more than $550M in transaction volume. Earlier in her career, Eteri worked at The Tuckerman Group structuring equity and mezzanine debt transactions and also for the Capital Markets Group of Jones Lang LaSalle representing clients in disposition of over $725M in real estate assets.
Eteri received a BA in Economics from The University of Chicago and an MBA from The University of Chicago Booth School of Business, and is an Illinois licensed real estate salesperson. Eteri currently serves as the President of the Real Estate Finance Forum, an organization focused on promoting women in real estate finance, and is an active member of the International Council of Shopping Centers. Additionally, Eteri is involved with the Jewish United Fund and American Israel Public Affairs Committee. She and her husband, Jeremy Oberfeld, live in Deerfield with their son Ariel and daughter Izabel.