Pulse of the Market : From the Heels of Next Realty
Historically, the US has had a real estate cycle of approximately 18 years.  But 2013 doesn't seem very different from 2006, which was only 7 years ago.  Many acquisitions in 2010 and 2011 are proving out to be grand slams.  In hindsight, you almost could not have gone wrong buying everything in those years.  Now, prices are back to all time highs.  Buying anything in 2013 requires real skill and foresight.
The retail asset class has gone through a tough patch and although the shakeout is likely not over, investors have warmed up to the asset class again.  Some players and faces have changed, and we've seen a distinct strategy shift along the risk/reward spectrum. However, for those who have emerged from challenging times with capital to invest, the market is certainly interesting.
A trifurcated investment market has led to stagnation of the more risky repositioning plans, healthy competition for value-add opportunities, and a highly aggressive market for more stable assets.  All investors looking for yield are seeking high-quality assets, whether those investors are institutional capital investors such as REITs, insurance companies, pension funds, sovereign wealth funds and large private equity funds or small private investors.  These stable properties are priced aggressively, on par with peak market pricing of 2006-2007.  Middle-market transactions, however, appear to be less desirable among investors, and thus less aggressively priced.
As a player in this arena, we have seen an emergence of new entrepreneurial firms, many created by friends who gained experience at large firms and used the downturn to go out on their own.  Retail development is primarily isolated to build-to-suit opportunities for expanding or new-to-market tenants such as Mariano's or Chick-Fil-A, or urban infill redevelopment.  Who has the risk tolerance to build on spec?!?
What signs of life are investors seeing?
Contrary to what some may believe, the Internet is not going to completely destroy convenience or fashion retailers.  While there have been some attempts within the retail industry to close stores and rely solely on an online presence (Linens & Things), this has primarily been an attempt by venture capital to extract value out of a brand name through bankruptcy acquisitions.  Rather, we've seen the opposite as those committed to bringing their products to the general population have developed brick-and-mortar concepts.  The established E-Store is becoming the future storefront.
Some retailers are taking advantage of current market conditions to optimize their real estate strategy.  One example is Pet Supplies Plus which completed a corporate restructuring that infused capital, and thereby life, into their merchandising model and growth plan.  Other optimization strategies include space utilization.  A number of large format stores have reduced their footprint or developed smaller store prototypes to create greater efficiency.  Market absorption is aided by the expansion of retailers who are already here (i.e. Vitamin Shoppe) and the addition of new tenants to our market (i.e. Sleepy's and Art Van).  Quick service users, restaurants and mattress tenants are the most active in the market.  Planet Fitness, hhgregg, and Blast Fitness have taken some old space.  Restaurants such as Red Mango, Jersey Mike's and Firehouse Subs are filling small shop locations in established centers.  Starbucks is looking at some of the old Caribou sites.  Franchising is on the rise, as entrepreneurs considering a mom-and-pop enterprise look for corporate support and guidance through the retail process.
Health leads to wealth?
The South and the Mid-Atlantic markets are ahead in terms of healthy, successful retail expansion.  In addition to experiencing population growth and job growth, (they have the lowest unemployment) those markets have the lowest vacancy rates and highest absorption.
The Chicago marketplace is experiencing a less uniform – but in some locations as robust – recovery.  The health of retail here can be described as the tale of three cities: urban, suburban, and tertiary.  Strong urban and suburban markets, such as Schaumburg, Naperville, and the city of Chicago, have limited vacancy and barriers to entry.  Many retailers are still looking for space in these markets.  Well-located space is leasable, and competition among users has noticeably increased.  In less robust markets, over the past several years retailers who could relocate to more favorable space did so – and space that was more difficult to lease remains vacant.  Retail requires population, traffic generators, and center/storefront visibility.  "C" space and "C" markets will continue to struggle.
An elevated heart rate
The most exciting things about retail real estate investment are happening right now.  Cap rates are approaching all time lows.  Financing is back to 2006 levels (LTV and cost of capital).  Rental rates are holding steady or climbing; pre-recession rental rates are occurring in "A" centers in "A" markets.  Landlords are making fewer concessions.  Experienced industry giants and fledgling entrepreneurs are increasing market activity and enthusiasm dramatically.  Deals are being done. If you are a buyer and you want to be competitive, you need to be prepared to be aggressive. Or, be patient to ride the cycle again…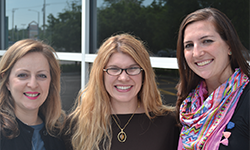 — Eteri Zaslavsky, Sara Chaiken, and Rebekah Carlson are Directors at Next Realty, LLC.  With an average of a decade of industry experience, together they deliver cumulative perspective on the current retail real estate landscape.